Fortnite and Ralph Lauren are Forming an In-game Fashion Partnership
As a huge multiplayer battle royale game, Fortnite is no stranger to huge collaborations with big brands. Now, there is a new company in the same selection and that business is Ralph Lauren.
Through this partnership, a range of elements for fans of the gaming title and the fashion brand will soon appear. These include physical polo Ralph Lauren shirt, but also many digital Ralph Lauren x Fortnite products.
These will be located in the game itself, including the Lauren x Fortnite capsule and additional cosmetic elements. All of that apparel featuring the Ralph Lauren logo will be a big marketing boost for the company. But, more importantly, the deal with Epic Games will provide the fashion brand with an entrance to the metaverse. The same could end up being a huge boost for the clothing company in the coming years.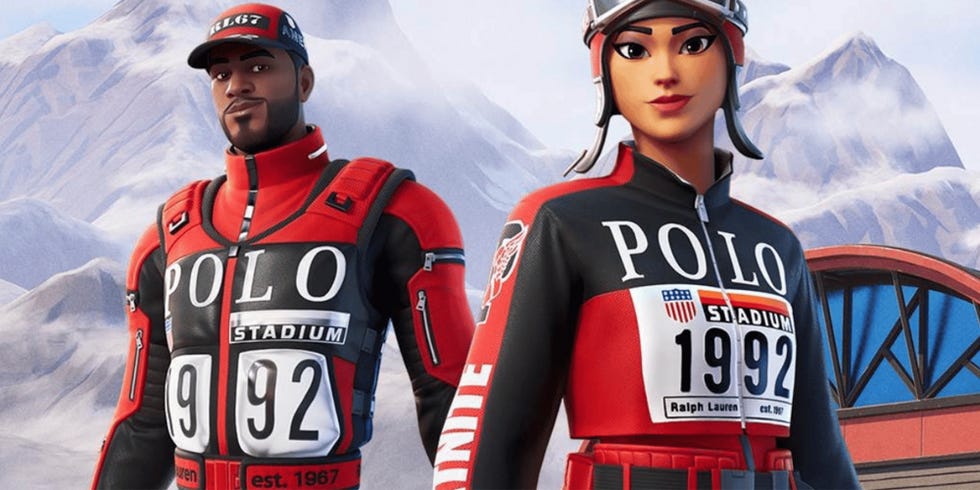 Source: Esquire
Massive Fortnite Popularity
The overall popularity of Fortnite has been a feature of the gaming landscape for some time. That is also why its Fortnite item shop continues to make hundreds of millions of USD each year. Polo Ralph Lauren collaboration should allow this fashion brand an entrance to the same space. However, unlike the regular output of the company, this collection is different.
The Polo Ralph Lauren crossover with the big battle royale game is a physical and digital venture. During its development, Ralph Lauren's designers have been working on a range of polo Ralph Lauren x Fortnite products.
Here, the physical apparel featuring custom embroidery and a polo x llama logo will come along with the so-called polo Stadium collection set. This will be inside of the game, where players will be able to gain virtual items from Ralph Lauren.
Polo Ralph Lauren and Polo Stadium Cup
Polo Stadium collection set is the key element of the Ralph Lauren x Fortnite collaboration. It is a blend of physical polo Ralph Lauren products and digital items.
The physical clothing includes a range of Polo Stadium's design elements, like the polo x llama logo. Here, buyers will be able to find several types of polo Ralph Lauren T-shirts, shoes, and other clothing products. In the virtual shop, they will have access to digital in-game Fortnite items. These cover weapons, outfits for Stadium hero characters, custom emoji options, and plenty of other cosmetic items.
Possible Polo Stadium Cup and In-Game Effects
It is clear that Ralph Lauren x Fortnite collaboration will have many cosmetic effect, as well as branding opportunities. That is why the arena loading screen will likely feature polo Ralph Lauren x Fortnite visuals and other similar cross-promo elements. But, many players are wondering if the game and the partnership will include some in-game effects. One of the most intriguing options would be a polo Stadium cup.
This would represent a tournament-like event with its complete tab in game. Here, players would be able to get their Stadium hero, equipped with a special polo Ralph Lauren apparel. With it, they could engage in a competition like a zero build solo tournament or some other version of a special match. The winner would become a polo prodigy in this Fortnite chapter.
However, this would require a specific event timing and many additional elements, including the design of different Stadium hero options. These Lauren x Fortnite capsule versions would demand a lot of work for all involved. This is why many believe that the partnership will not move away from the Fortnite item shop and Ralph Lauren physical goods. The same goods might carry a polo x llama logo and other Fortnite polo Ralph Lauren markings, but a complete event featuring Stadium hero characters seems unlikely.
Source: Gothammag
Brand Appeal and Younger Audience
Any big gaming partnership connecting a top-rated title with another brand is good news for all involved. Recently, Rocket League and Fortnite crossover took place. But, in some cases, the benefits sway towards one partner to a greater degree.
The Fortnite polo Ralph Lauren crossover is clearly going to help the fashion brand a lot more. Polo Ralph Lauren x Fortnite could be a big seller for the brand, especially among the younger customers.
In that demographic, llama logo is already very recognizable. By connecting with it, Ralph Lauren can only benefit in the long run.
New Fashion Collaborations
This battle royale collaboration is not the first such idea from the creators of the polo Ralph Lauren collection. In fact, the possible Polo Stadium cup event rumors will only push the same polo Ralph Lauren sales. But, nearly a year ago, the same fashion brand already made a deal with another big gaming space. That is the gaming universe of Roblox, where Ralph Lauren made a partnership at the end of 2021.
That is why this deal that will bring the polo x llama logo to T-shirts is not something completely new to the fashion brand. Still, there is a clear sense that the present Fortnite partnership can grow into a much bigger venture.
Expanding Fortnite Metaverse
On the surface all of this might seem like a drive from the company to sell more polo Ralph Lauren x Fortnite products. While the profits are clearly desirable, there is a much bigger element in play for the polo Stadium's design elements. That element comes down to the entrance of Ralph Lauren into the wider metaverse. While the same VR and AR space is still poorly defined and in many ways unclear to ordinary users, its relevance is steadily growing.
Now, Ralph Lauren will get its arena loading screen and many benefits of having that polo Ralph Lauren x Fortnite deal. Lauren x Fortnite capsule will get its clothing solutions in front of many young players and that image will stick with them. Not all will become a full polo prodigy and decide to buy its fashion apparel, but the company is getting its polo Stadium. With that part of the battle royale title, it is now a part of the Fortnite metaverse.
Thanks to it, Ralph Lauren could slowly spill into other aspects of this growing and important digital space. The long-term benefits of that could end up being immeasurable.