Operation Solar Raid is bringing Crossplay and Cross-Progression to Rainbow Six Siege
Rainbow Six Siege is a multiplayer shooter title that belongs to a very famous IP and series. Over the years, this simulation of SWAT tactics in real-life has grown into one of the most appealing FPS games for PC players and console players alike. Now, with the introduction of Operation Solar Raid, the fans of this title will get what many of them have been asking for years.
That is both the crossplay and cross progression system that will become a part of the game. This is great news not just for those who already play Rainbow Six Siege and cannot wait to get to the new map, but many who are interested in the game. The new systems for playing and progression will make the same entry a lot easier, as well as level the playing field for both new and old gamers of this title.
Operation Solar Raid in Action
There is a lot to unpack when it comes to the new map and the entire new update that is Operation Solar Raid. It will get players the new battle pass system that is based on both the PC and consoles. That means that players who game on Xbox series consoles, for example, will see no major differences in terms of their experience than those playing on a PC. Instead, the new content and any future update additions will be accessible on all supported platforms.
The same goes for the individual progression of players. Rainbow Six Siege gamers will now be able to take their skins and other collectibles across both PC and console platforms.
Rainbow Six Siege Big Changes
Of course, the changes in the systems that support crossplay are not the only additions to the game from Operation Solar Raid. The game will introduce a new map, called mysteriously Nighthaven Labs. Besides it, the game is getting a new operator from the update. This character is called Colombia and gamers got a look at her with the announcement of a release date.
The promo art features her in a striking pose with an Uzi-like submachine gun and a grenade. Ranked 2.0 is also arriving in Rainbow Six Siege. That means that the players will see a new Ranked system and a battle pass setup. Lastly, there is a new faction appearing in the game as well.
Source: www.theloadout.com
Necessary FPS Technologies
Crossplay allows players to compete with each other on all supported platforms. Regardless if the players enjoy fighting games like Mortal Kombat or driving simulations like Forza Horizon, this is something that most players expect.
In the case of first-person shooters, the same crossplay technology is simply a must. Otherwise, the players end up divided across the platform they possess, with the need for individual balance changes and tweaks, making a unified playing field almost impossible.
Cross platform is thus a necessity that Operation Solar Raid had to include into the wider game. Otherwise, Rainbow Six Siege would continue to risk staying behind most other FPS games in the top-tier gaming pack.
Another Entry into Games Support Crossplay Category
After a number of individual season competitions, Rainbow Six Siege is now up-to-date with all of the advantages of this crossplay functionality. The same will definitely influence the quality of the experience players have.
It also makes sense from the developer perspective, as it unifies a number of elements, including those related to progress or weapon functions. The move will also limit the potential of players on certain gaming rigs believing they are only ones with a particular advantage.
Rainbow Six Siege Progression System
The player community is also very much excited about the changes that the Ranked 2.0 will bring and what will be its characteristics. Like any other highly competitive game, Rainbow Six Siege depends on the speed and quality of its progression and rank allocation. Update to the Ranked 2.0 should include balance changes that make the progression a smoother experience.
At least, that is the aim of the developers with Operation Solar Raid, but only continued testing from actual players will show if this is the case. That includes a chance that operators need further updates and that other details come to light only through countless played sessions.
New Faction
The name of the new faction in the new update has been made known and it is Ghosteyes. Now, the same group will join the existing factions of Nighthaven and Team Rainbow.
These will bring their unique features to each match where they are used, including characters and operators with unique designs and special ability capabilities. The player community is already looking forward to testing them out in the game.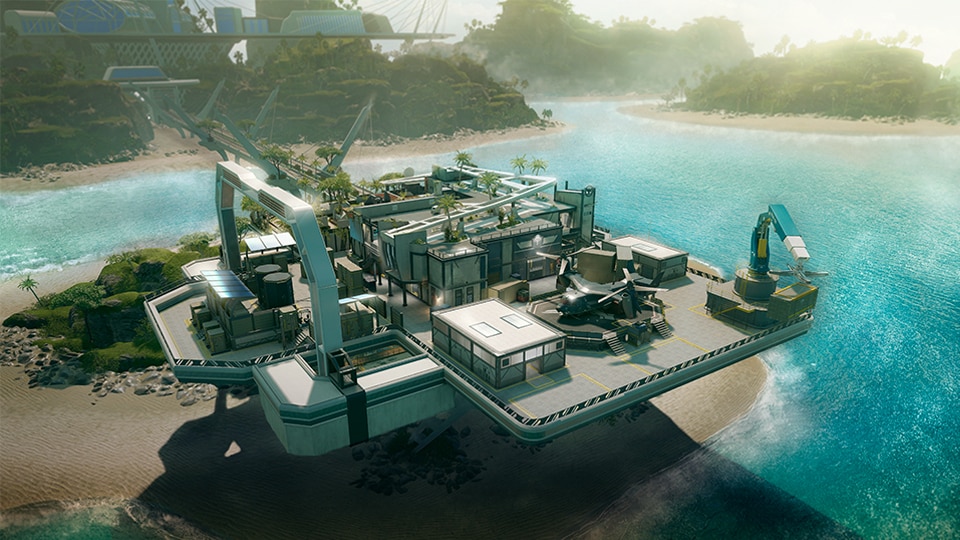 Source: www.ubisoft.com
Enticing New Players
The desire of the whole Ubisoft team behind the development of the Rainbow Six Siege franchise was to keep it going and slowly carve out a piece of the FPS market for them. While there is a clear distinction between this title and, for example, more casual releases like those for Nintendo Switch, the developers managed to meet their goal. Today, the franchise of Rainbow Six Siege is a beloved title for many FPS gamers on PC just as much as it is on the Xbox series. Season after season, the shooter was able to bring in players and keep them going to map after map.
But, there is also a sense that the same series now needs something new that will bring in more interested FPS players who are still not playing this title. Operation Solar Raid is a big step in the same direction. Both cross progression and crossplay will make that entry into the Rainbow franchise and world a lot easier and more elegant. However, as titles like No Man's Sky show, it takes a lot of prolonged effort to keep all those new players active and interested. Ubisoft will have to invest the same energy here as well but also do it consistently in the coming months.