The Top 5 CSGO Weapons You Need to Master for Competitive Play
Counter Strike: Global Offensive is a fantastic first-person shooter beloved by the entire FPS community. For years, it remained one of the most popular games in the same multiplayer domain and for good reason.
Its unique mixture of economy, strategy and sheer action allowed all manner of players to find countless hours of fun. But, at the same time, the game is also extremely competitive and demanding for newcomers.
For them, but also anyone looking to get ahead in the game, the need to learn the go to weapon choices, as well as the ability to save money are essential. In that regard, a list of top five weapons and weapon classes in the game of CS:GO is more than essential.
Competitive Nature of CS:GO
Source: idcgames.com/
Very few games out there have the level of popularity of CS:GO and its fearsome competitive community. While games like Call of Duty: Warzone or Rainbow Six Siege also offer a very similar modern battlefield environment, it is Counter Strike: Global Offensive that combines different elements into a powerful mixture.
Here, the personal abilities of players in a team of terrorists or counter terrorists are just as important as understanding strategy or managing the team's economy. In that regard, very few weapons fit all roles.
Instead, choices should be carefully made. Otherwise, no matter how skilled players are, their team will still end up losing.
Taking on the Enemy Team through Economy
In CS:GO, everyone has to take a eco round sooner or later. These rounds are moments when the team buys pistols and possibly grenades without wearing armor, but no machine guns or any other weapons that are more powerful.
To win in CS:GO, these rounds are essential, as well as the demand to play patiently. In the next round, the team can buy the best guns available. But, anyone's proper choice of weapons demands the presence of eco rounds in the matches.
Importance of the Pistol Round
Just as important as the eco round concept is the understanding that the pistol round is the bread and butter of the early match phase in the game. With a full magazine and a decent aim, these weapons are just as deadly as another.
While players with enough cash will move onto assault rifle options and other possibilities, the pistol round and associated small arms are crucial for the start of a CS:GO competition. That applies to eco rounds, but also the entirety of the matches as well.
Best Competitive Weapons in Counter Strike: Global Offensive
Having in mind all of these concepts about the interaction of economy, tactics and gear, here is the breakdown of the best weapons and weapon classes in CS:GO anyone has to master for competitive play.
Starter Pistols
Source: fpschampion.com
In the world of Counter Strike, the Desert Eagle is likely the most famous pistol. It offers one shot kill capability, but is actually not that important for the domain of starter pistols because of its price.
Instead, the Glock-18, P2000 and USP-S should be the go-to weapons for competitive play. Some of them offer controlled bursts, others large magazines and additional perks. Of course, there is also the issue of personal play style that also defines which of the pistols is the best weapon for a player.
But, they still have a lot of things in common and remain excellent weapon choices for early matches. Furthermore, all of them are great tools to save money for future rounds.
Ever-Popular AK-47
Source: fpschampion.com
The iconic AK-47 needs no special introduction. This weapon got its iconic image and reputation for good reasons. For many, it is the best combo of quality, price, and effectiveness in the entire game.
The same assault rifle packs a powerful punch and offers a high level of control and precision. Many professional players use it to kill enemies with a single shot to the head or just two shots to the rest of their bodies.
UMP-45
Source: weplay.tv
This submachine gun is a prized possession in many later rounds where players have some money, but still not enough for assault rifles. With its low recoil and moderate rate of fire, UMP-45 is devastating in mid-range encounters.
Interestingly, the UMP-45 round is very good for armor penetration. Overall, that feature is not that common with cheaper weapons in CS:GO. This way, even enemies with armor can get a lot of damage from the same financially accessible submachine gun.
M4A4
Source: fpschampion.com
The M4A4 might not be the best option for close quarters encounters, but for pretty much anything else, it is the go to weapon for the counter-terrorist faction. First of all, the same rifle holds 30 bullets in its magazine, while it also provides high accuracy characteristics.
Lastly, the M4A4 rate of fire is astounding. That blends perfectly with the large magazine capacity, so the players can fire off many bullets with decent clustering. The same makes it a fantastic choice for the CT side.
AWP
Source: rare-gallery.com/
If there is any domain where the AWP sniper rifle fails, it is the domain of economy. This weapon is very expensive, making it an option that is only available later in the game. However, it is a great weapon for long range shootouts, especially between enemy snipers.
Here, any competitive player with the ability to find good positions around the bomb site, for example, will have a major advantage. In that case, the slow fire rate will make no difference, as each bullet will kill the enemy.
In capable hands, the AWP is the perfect weapon for offensive actions, map control, or anything else. But, the price means that the same benefits can come only in later rounds.
Bonus: Grenades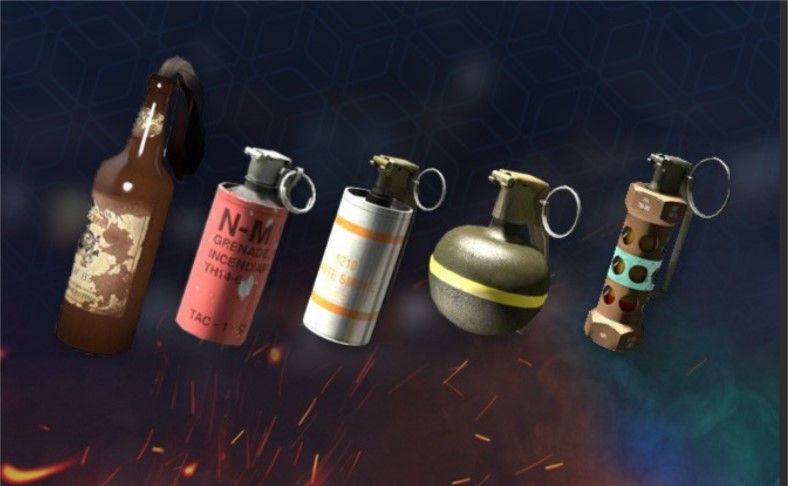 Source: scope.gg
A lot of focus in Counter-Strike: Global Offensive goes towards firearms. However, at the same time, a good weapon for competitive players remains the selection of grenades. Flashbang and smoke grenades come with a set of benefits, but it is the HE or the high explosive grenades that make the biggest difference.
Each EH grenade can kill an enemy and severely damage others in its blast radius. That is why they cannot be ignored, especially having in mind their overall affordability for things like first rounds.