Top 10 Most Expensive CS:GO Skins in 2022
Playing video games has evolved into something more than a simple pastime for kids and idle adults. Today, the same industry is worth billions of USD globally, but also continues to create smaller but just as lucrative niches.
The domain of CS:GO and its market for skins is a perfect example of that process. The same multiplayer shooter game has been a staple of the FPS genre for over 20 years. But, the amount of money that goes through its market selling skins for weapons is stunning even for CS:GO veterans.
Also, the impulse behind the same market is so big and prevalent that it is comparable to the stock market. Here, just one skin can fetch huge prices, while countries, mainly China, can provide a secondary market for those who possess an expensive arms deal collection.
At the same time, the market has been alive and well in 2022. That includes the top 10 selection of the most expensive skins in CS:GO.
The Skin Market
The market for CS:GO skins is by no means a new development in the huge Counter-Strike ecosystem. The game itself is an interesting evolutionary product of the original game of Half-Life.
Here, a small team of developers created a mod for the game, focusing on player-vs-player combat and the entire multiplayer experience. This took place at the end of the 1990s and quickly evolved into one of the most popular multiplayer games on the planet.
That took place in the age of the LAN matches and physical connections between individual players and their computers. When the dawn of the Internet brought about online competition, the Counter-Strike fandom grew exponentially.
Counter-Strike: Global Offensive was another huge new chapter of the gaming series and it managed to add millions of new players. Inside of it, in 2013, a batch of new content called the Arms Deal update introduced the skins, or cosmetic finishes for the in-game weapons.
Their popularity blew up almost immediately. In a matter of months, things like knife skin could be purchased online from a player who managed to get it. Other expensive CS:GO skins began appearing as well.
Just like that, the skins market was born. Since then, it has been going strong and skin trading sites began appearing as well. But, the new market was not a completely novel concept.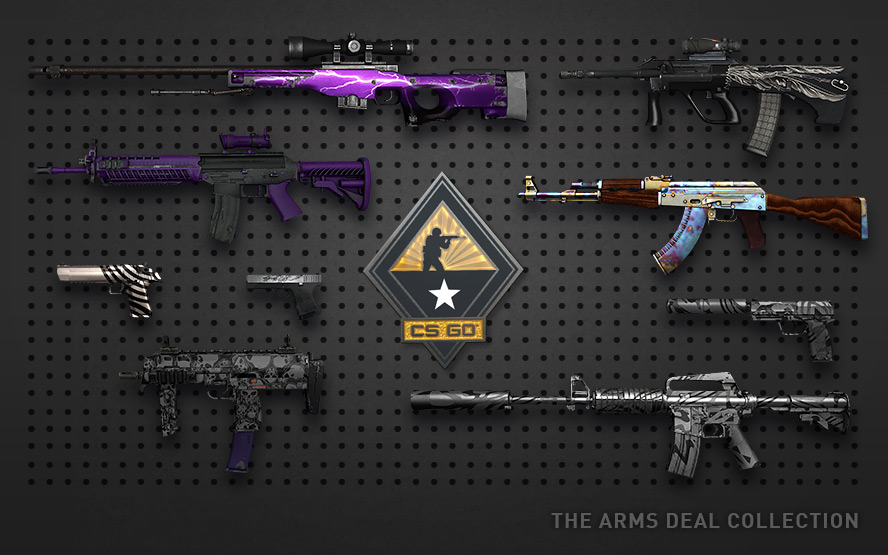 Source: www.counter-strike.net/armsdeal
Stock Market vs Weapon Skins Market
Almost immediately after the skins market began generating traction, analysts, including those from the economy domain, began noticing some patterns. This included an uncanny similarity to the traditional stock market.
While the process of trading and baseline value is nothing like stocks, which represent a company, the way the price changed was very much like the changes on Wall Street.
So, for example, an expensive AWP skin or things like the Operation Breakout weapon case and its case hardened skins could reach the market at some point. From there, things like social media mentions from professional players and level of rarity would dictate the price.
An additional layer would be the aesthetic value, especially if it comes from an original artist. All of these factors influenced how the newer skins began generating value. Most expensive skins did the same, but over a prolonged period of time.
Expensive Skins and the China Effect
Unsurprisingly, like in all domains of trade and finance, China plays a big role in the CS:GO skins market. In 2022, a skins collector from mainland China was banned by Valve. The same account held over 2 million USD in things like individual weapon skin.
Besides, things like contraband skin instances often come from China as well. These generate a pretty penny for their creators as well, but add a degree of confusion on the market with each fake gun skin.
However, while this is a problem, China still generates a big chunk of the CS:Go gun skins. Here, options with scar pattern, gold stickers, wild lotus, or even very expensive stickers reach very high prices.
Developer Influence
In 2022, Valve was more focused on the actual game and its esports teams than on the other players who collect skins or trade in them. The success of the game in the long run depends on the player base and match count, not its skin market.
Still, despite this, the year also brought a range of incredibly cool weapon collectible skins.
The Ultimate Weapon Skins Selection for 2022
Here is a selection of the most expensive skins from CS:GO for 2022. While some come in the form of Factory New condition, there are many other versions of the weapons, featuring their best pattern designs that go back years.
10. wild Lotus AK-47
Decorated by a flower pattern, the 2019 Wild Lotus skin is still in a short supply and much appreciated. Its green and red colors are vibrant as ever and a Factory New version will set the buyer back some 8,000 USD. Its estimated value can go as high as 10,000 USD.
Source: Dexerto
9. Gungnir AWP
Gungnir AWP skin appeared in 2019 in CS:GO and it was a part of the Norse selection of skins. Battle-scarred alternatives of this skin still go for thousands of USD, while a Factory New option will go as high as 12,000 USD. It is also one of the most expensive AWP skins.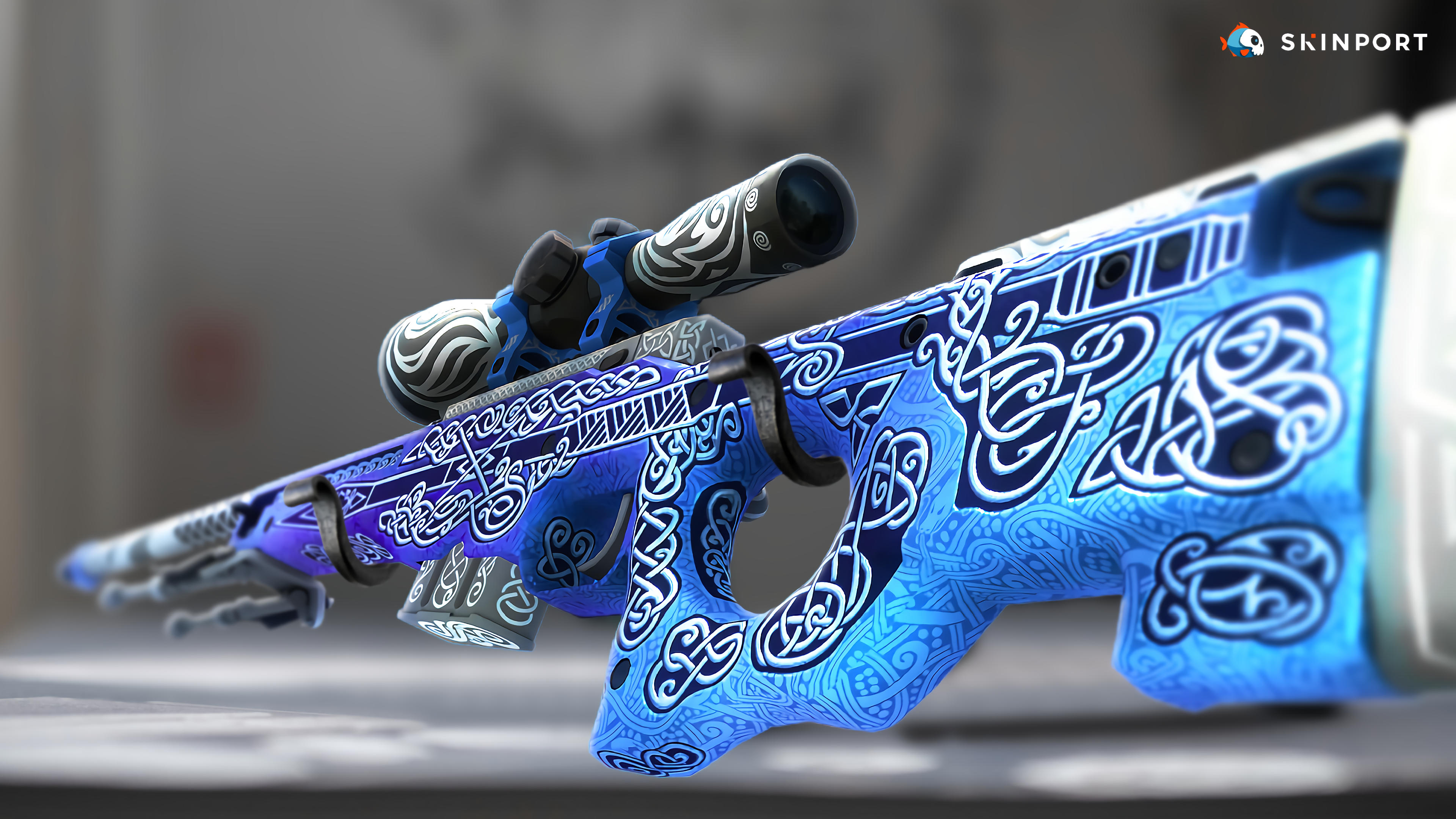 Source: Skinport
8. Fire Serpent AK-47
The Operation Bravo case brought about this skin, making it one of the classic ones from 2013. In 2022, it was changing hands for over 10,000 USD in the case of the Factory New version. Its elegant dragon lore design is still more than striking.
Source: Dexerto
7. Karambit Butterfly Knife Sapphire
In 2022, anyone who wanted a sapphire or ruby knife had to be ready to spend some serious cash. In general, Butterfly knife and Karambit knife in Sapphire will reach a price that regularly goes over 10,000 USD. Because of that, it is no wonder that their deep blue and purple design is simply irresistible to some professional players.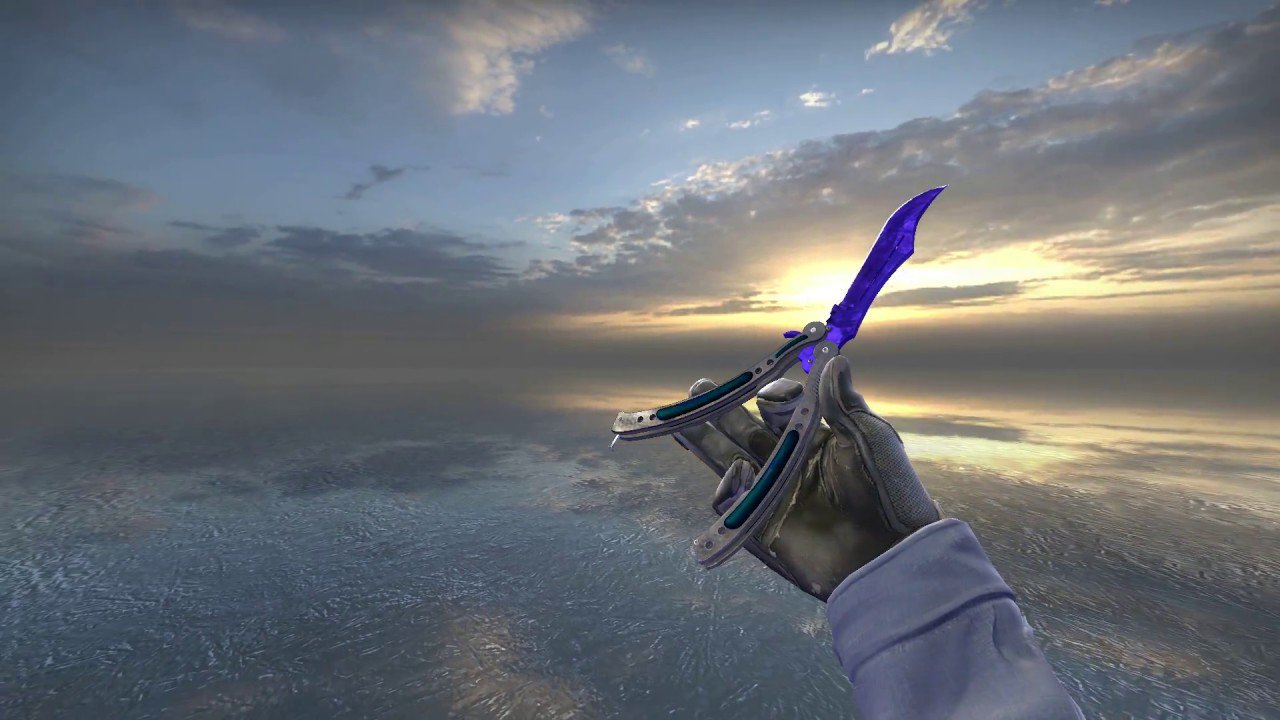 Source: SkinUp
6. Factory New Crimson Web knives
Crimson Web knives in 2022 regularly brought more than 10,000 USD for the same skin. Factory New versions of these rusty red blades were sometimes found to reach as high as 14,000 USD. Additionally, crimson web skin alternatives also gained a lot of popularity.
The same goes for butterfly knife crimson web skin, which like the crimson web skins rose in appeal drastically. The future seems bright for all manner of CS:GO knife skin alternatives, especially the butterfly knife crimson web option.
Source: Dexerto
5. Sport Gloves from Vice and Pandora's Box
Sport Gloves are a part of the CS:GO series of the Glove Case update. Here, while gloves are not a skin for weapon, they still generate a lot of traction on the collectable market.
That is why Vice gloves can rise as high as 20,000 USD when they are a Factory New pair. But, even the worst state gloves will generate at least 1,000 USD.
Source: CSGOBluegem
4. Katowice 2014 Stickers
These team stickers go back to the CS:GO event in Katowice almost a decade ago. Among them is even the iBuyPower team's sticker, which became notorious for match-fixing.
It and other stickers, like the red fire breathing dragon, can generate an incredible sum of over 40,000 USD, mainly because of their uniqueness and rarity.
Source: Dexerto
3. M4A4 Howl
This skin is the only addition from the Contraband series and it is extremely rare. A Factory New and StatTrack version will reach 30,000 USD, while the right stickers will take the price to 100,000 USD.
Once such a version was sold back in 2020 for precisely 100,000 USD and is worth most likely even more today as one of the most expensive skin deals out there.
Source: Dexerto
2. Case Hardened AK-47
Case Hardened skin for AK-47 can reach incredibly high prices in CS:GO. The pattern number 661, for example, will go as high as 35,000 USD. Case hardened karambit is also highly prized, and just as rare as other weapons from the hardened skin family.
Source: SteelSeries
1. Karambit Case Hardened Blue Gem
Officially the most expensive CS:GO skin, Karambit Case Hardened Blue Gem now holds an almost legendary level of collector appeal. In 2016, the skin was bought for over 100,000 USD. Recently, the seller turned down an offer of 1.2 million USD for it.
Its black and blue color selection is cold, but the price for the same skin is anything but that. Instead, it can be freely said that it is on fire.
That means that this skin, Factory New and pattern 387 is now likely valued at least at 1.5 million USD. As expensive CS:GO skins go, this is the leader of the pack by all parameters.
Source: GameRiv
2023 in the CS:GO Skins Market
There are predictable patterns in the CS:GO market and its skins. The top 10 most expensive CS:GO skins will continue to morph and evolve. But, there will be no major changes and upheaval.
It is certain that the present valued skins will retain a lot of their worth and likely add to it as they age. Other new versions will enter the fray but will again demand a lot of social media chatter and attention, as well as the original artist's effort to gain that level of appreciation.
But, the true danger for expensive CS:GO skins lies, like in the case of the traditional stock market, in the general loss of purchasing power. As the global recession seems more likely each month, the ability of players and CS:GO fans to buy and invest into skins will drop.
This will not kill off the market but it will cool it down substantially. That might push some skins down in terms of value and make it harder for other new additions to climb the ladder of value.
But, as long as the game of CS:GO remains popular, so will the collectible elements like its dragon lore or butterfly knife designs. The same means that while 2023 skins market might be smaller, its potential is not going to vanish with the incoming economic crunch.